The New Vintage Orchestra

THE NEW VINTAGE ORCHESTRA: MUSIC FOR ALL OCCASSIONS!


Much like fine champagne, The New Vintage Orchestra bubbles with an unparalleled energy
and charisma that is sure to keep dancers going all night. Formed by trumpeter Brian Lewis
in August of 1992, the band puts forth an incredibly diverse range of musical talent.
Featured is female vocalist Doris Anne Lewis, singing the hits of Ella Fitzgerald, Natalie Cole,
Dianne Schure, and many other swing singers.
The swing scene's resurgence in the late 90's was undeniable. The New Vintage Orchestra
reproduces 1930's and 40's sounds using original arrangements from Benny Goodman,
Glenn Miller, and Harry James, and with special arrangements written by Brian Lewis,
the band belts out the sounds of popular dance chart-toppers. Not all of New Vintage's
charts are vintage, however! They also play the hits of Cherry Poppin' Daddies,
The Brian Setzer Orchestra, and Big Bad Voodoo Daddy.
The band has backed up such names as The Temptations, Jerry Vale, Connie Francis,
Al Martino , Frankie Valli, Bob Newhart and Joan Rivers. Few bands possess the ability
to set a room in motion like The New Vintage Orchestra. From the opening downbeat to
the last note, screaming brass, gritty saxes, and a strong rhythm section keep the audience
jumping the whole night long.
"Standards Aged to Perfection", The New Vintage Orchestra's debut CD release, captures
the incredible versatility of the group. The album's eleven tracks include a wide range
of classics from the 1930's and 40's. From a foot stomping rendition of
Benny Goodman's "Sing SingSing" to the silky smooth lyrical lines of
Doris Anne Lewis in "And the Angels Sing", to a rousing,
jazzy finale of "When the Saints Go Marchin' In", the band is sure to entertain, and,
like that bottle of bubbly, only gets better with time.
NEW VINTAGE PERFORMS FOR CARLOS BELTRAN FOUNDTION NYC JUNE2016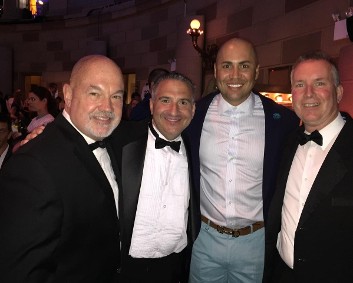 Pictured above left-right: Gus Kalin,Mike Klein, Carlos Beltran, Brian Lewis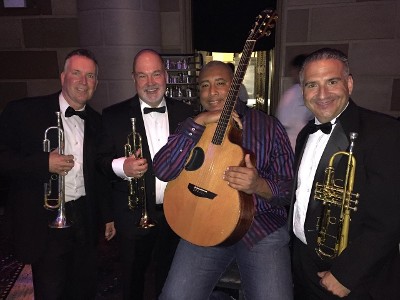 Pictured above left-right: Brian Lewis, Gus Kalin, Mike Klein w/ Bernie Williams
WATCH US ON YOUTUBE!
"In the Mood0" https://youtu.be/22oKFUMJoyQ
"Perdido" https://youtu.be/quyHaELwR8Y
"Macarthur Park" https://youtu.be/Iz-Z4TsgRlE
"Almost Like being in Love" https://youtu.be/x4mvfiIlT2M
"BLUE BIRDLAND" tribute to Maynard Fergusonhttps://youtu.be/CQGh_1UDCaU